Click here to download.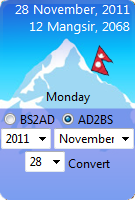 Key Features:
No INTERNET connection, no database map required.
No hidden cost, no hidden ads.
One click install.
Compatible with Windows 7 and Windows Vista
Lightweight, only 60 kb
Date Range from 2000 BS to 2089 BS.
Date Range from 1944 AD to 2033 AD.
Free for Use.
No Load at all on the CPU.
Instructions:
Download the gadget by clicking the link.
Double Click on NepaliCalendar.gadget
Click on 'Yes' to Confirm and Continue.
A gadget as shown above will be displayed on your desktop.
This widget has been designed in need of date converters in offices and other businesses where nepali date is a compulsion and people are still not able or do not want to migrate to International date system. Mostly people look into a calendar, or go to date conversion websites to make the conversion. But now with the use of Windows 7 and new operating systems, it is difficult to find date converters compatible with it. Here you can find the solution. Since Windows 7 is the most preferred operating system with new laptops and desktops, and it also comes with a preinstalled sidebar which is the only requirement for this widget. Feel free to use this gadget.

Preview:
This is the initial Widget display. It shows the current date in English calendar and in Nepali calendar.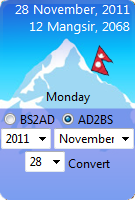 This is the AD to BS conversion. First we select AD2BS radio, and then choose the required date(year, month and then the day). Finally we hit the 'Convert' link to view the conversion result just below.
This is the BS to AD conversion. First we select BS2AD radio, the year, month and day are changed to BS settings. We select the required date and then Hit 'Convert' to view corresponding results.
Click here to download.
Comments